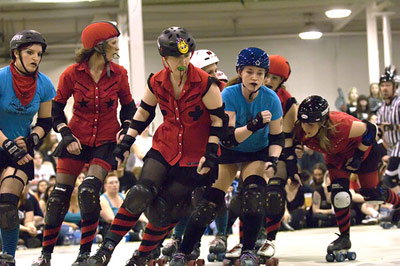 The Naptown Roller Girls are proving so popular, the locally-based team is looking for a bigger venue. In only its second season playing at the State Fairgrounds' Toyota Blue Ribbon Pavilion, the team's following has outgrown the 4,000-seat facility. The team's March 22 game against the Cincinnati Roller Girls was the team's second consecutive sell out. Team leaders are talking with Fairgrounds officials about finding a bigger venue for the Roller Girls' third season.
The team's Feb. 9 sell out drew almost 4,500 fans for a standing room only crowd. The crowd was so big, team officials had to cap ticket sales for subsequent games. Tickets—which sell for $10 in advance and $15 on game day—for the team's April 19 home game are already selling fast, team officials said. The other remaining home games are May 17 and June 14.
Ticket buyers are warned that the crowds can become exceptionally loud, and that children afraid of loud noises should stay home. Despite the loud atmosphere, team officials said the environment is family friendly. But the first two rows are not for the faint-of-heart. Players occasionally careen off the track and into the crowd.
By all accounts the Naptown Roller Girls are a rare success story of a start-up team in a start-up league. The Women's Flat Track Derby Association was founded in 2004 by women who love to skate and yearn to compete. The Roller Girls were started with a small budget and little marketing. While the Naptown team has advertised in Nuvo, the fan following has grown largely through word of mouth. The visual display of girls rolling at high speeds and throwing body blocks into one another has been a camera-ready attraction that several local television stations couldn't resist. The fervor over the team—composed of players using stage names such as Lilly Whip, Joan of Dark, Jane Ire, Shadi Lane and 4 Leaf Cleaver—has grown dramatically from its inaugural season.
In a city where indoor and outdoor men's and women's soccer teams have failed, ice hockey has struggled to gain a foothold and even the WNBA Indiana Fever—backed by the powerful marketing engine of Pacers Sports & Entertainment—have fought hard to attract fans locally, why have these unorthodox Roller Girls been such a hit?
Please enable JavaScript to view this content.