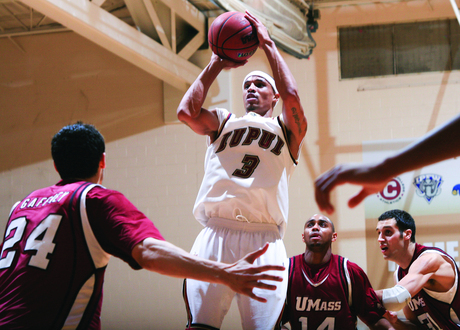 IUPUI's basketball program has an interesting problem. Its men's basketball team needs to strengthen its non-conference schedule so it can make a postseason tournament. Postseason exposure would help it gain a stronger fan-following, which would in turn help it raise revenue to retain a top-level coach (Ron Hunter seems to be doing a fine job as long as he stays) and build a larger arena.
It turns out to be a real chicken-egg scenario for IUPUI. Top teams won't set foot in the Jaguar's 1,200-seat home, but IUPUI is hesitant to sign deals only to play difficult away games with no payback. One solution would be to slate games with Indiana and Purdue. After all, aren't these schools part of the same family? But when it comes to sports, it's everybody for themselves.
IUPUI Athletic Director Mike Moore said he has repeatedly asked for deals to play IU and Purdue–and Butler too. While IU did play IUPUI in 2006, and will do so again in Bloomington next season, Purdue and Butler in recent years have declined. Moore has even offered to play games at Conseco Fieldhouse.
"As you get better, there's a reluctance for the big programs to come in and play you at home," Moore said. And IUPUI certainly has gotten better. With some of the top talent from area high schools filling its roster, IUPUI went 26-7 this year and had an RPI rating of 76. Still, IUPUI was unable to land one of 113 NCAA Div. I postseason slots.
A game against IU or Purdue—even if the Jaguars lost—would likely improve the team's RPI by 10 spots. If they scheduled IU and Purdue and beat just one of them and continued winning 20-plus games, they'd likely be a shoe-in for postseason play.
But the big schools' decision not to play IUPUI goes beyond the fear of getting beat by a small school. It's financial. Schools like IU and Purdue bring in $300,000 or more for each home game. They're not about to give that up to play in a facility smaller than most high school gyms. Instead, they offer select smaller schools between $50,000 and $75,000 to come visit their house. But too many of those away-only agreements could torpedo a 20-win season.
One solution that has been recommended is a double-header featuring some of the best in-state talent, such as IUPUI, Butler, IU and Purdue. That would offer a boost to IUPUI and Butler while helping IU and Purdue maintain their Indy alumni connections, sports marketers said. But Moore said those kinds of double-headers "have gone by the wayside."
"The Big 10 schools are reluctant to give up the home games, and the promoters of that kind of setup would simply have to pay out too much to them," he said. "It comes down to the financial end of it. For us, it would be a win-win."
IU and Purdue apparently aren't about to sacrifice a little off the top for their little brethren. Should they lend more of a helping hand?
Please enable JavaScript to view this content.