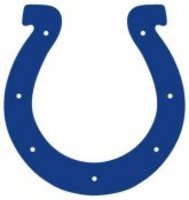 The Indianapolis Colts are inviting fans to create a logo of a horse that is "unique, versatile and fun" for the team's Design a Horse contest. The Colts will use the winning design as a secondary logo to complement existing logos. In addition, the Colts may use the winning logo on apparel and all other Indianapolis Colts marketing materials.
Colts officials will select five finalists, and their logos will be posted on Colts.com. Fans will vote through the team's Web site for the winner. The grand prize includes two lower level season tickets for the inaugural season at Lucas Oil Stadium plus $1,000.
Colts officials said all designs submitted should incorporate "a youthful horse that is playful yet strong" and appealing to Indianapolis Colts fans.
The grand prize winner will be announced April 26 at the Colts annual Draft Day Party.  Further details of the Colts' Draft Day Party will be announced soon. 
First face painting pictures posted at the Luke and now this. What do you think?
Please enable JavaScript to view this content.