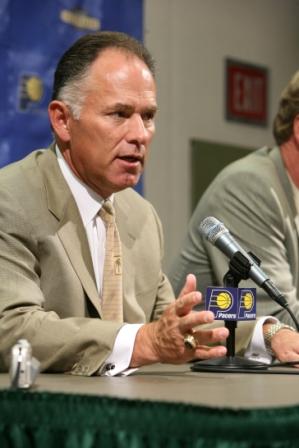 Indiana Pacers Coach Jim O'Brien said yesterday during his show on WFNI-1070 AM that he thinks players interested in entering the National Basketball Association draft should be required to wait two years after high school. This issue has gotten much hype recently with former Indiana University Coach Bob Knight saying it's a sham that players only play one year in college. Knight pointed out that a college student planning to play just one year can pass as few as six credit hours of classes his first semester, not go to class at all during the second semester and still remain eligible for the entire year. Knight argues that a player doing that is not a true student-athlete. O'Brien called that scenario "a travesty to higher education."
NBA Commissioner David Stern is expected to broach the subject during meetings this upcoming off-season with team owners and representatives of the NBA Players Association. Lately, Stern has been supportive of mandating a two-year post-high school wait. O'Brien said most new high school graduates are not physically, emotionally or socially ready for life in the NBA. If Stern moves to require players to play an additional year in college, O'Brien said he would "support it wholeheartedly."
"It's a tough life; it's a tough league," O'Brien said.
A move by NBA owners to require players to extend their college stay would not be completely altruistic, sports business experts said. NBA owners have recently become disgruntled about paying to develop players and drafting primarily on a player's potential. O'Brien acknowledged that players' rights have to be considered before such a measure is passed.
Do you think players should have to wait another year before entering the NBA draft?
Please enable JavaScript to view this content.