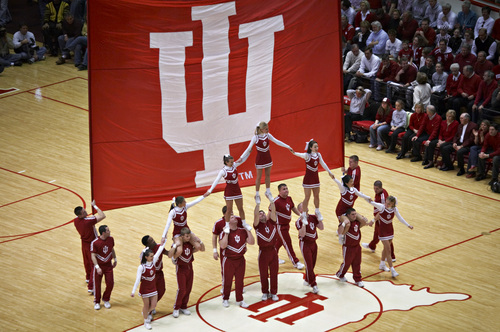 As the NCAA hoops tournament heads down the home stretch, Indiana University appears to have its own final four—for its vacant men's basketball coaching job. But there are a few Cinderellas that could crash this party. A week from now, IU officials said, fans and alumni should know who will lead the team next season.
Sources within the university and close to college basketball say IU's 10-person search committee has zeroed in on four primary candidates; Xavier's Sean Miller, Wright State's Brad Brownell, Louisville's Rick Pitino and former Stanford and Golden State coach Mike Montgomery.
Each has strengths and weaknesses. Miller and Brownell, both 39, are up-and-coming coaches that IU could build a program around. They've both been successful, Miller compiling a 93-39 record and Brownell 127-62. But neither has experience at a marquee program.
Pitino, 55, and Montgomery, 61, have big-time experience, but some within IU think those candidates will retire within 10 to 12 years. Pitino and Miller have buyout clauses in their current contracts estimated at $2 million. Montgomery, currently an assistant to the Stanford athletic director, would be the easiest—and probably most affordable—to hire.
Given IU's $45 million athletic department budget, which is small by Big Ten standards, a $2 million buyout plus a $2 million annual salary that Pitino would request might put him out of the picture. IU's budget would also mean that Miller would have to agree to a contract that is backloaded to pay him more in the later years and less in the early years while they absorb his buyout.
Two candidates who are definitely out are Washington State's Tony Bennett and New Mexico's Steve Alford. Long-time fan favorite Alford this week signed an extension to lead the Lobos through the 2015-16 season. New Mexico officials gave Alford a 25-percent raise to scare off IU's search committee, sources said.
No competition is complete without a couple dark horses. Virginia Commonwealth's Anthony Grant, 42, is the strongest contender, but Butler's Brad Stevens, 31, is also getting some interest.
Stevens' buyout clause would be peanuts for IU, he knows Indiana and has shown the ability to recruit. He's certainly a guy IU could lock down for 25-plus years.
After spending 10 years as Billy Donovan's assistant coach at Florida, Grant has been solid in two seasons at VCU.
If all else fails, retaining Dan Dakich still isn't out of the question. While some sources believe he could be successful with his own players at IU, his 3-4 record as the head man at his alma matter makes him the darkest horse of all.
IU trustees and members of the search committee will only say the goal is to have the new coach in place in one week. And remember, two years ago, Kelvin Sampson came out of nowhere to land the job.
"There's a lot of speculation that's not based on fact," Indiana University Trustees President Stephen Ferguson said.
Who do you think is the best choice to be IU basketball coach?
Please enable JavaScript to view this content.