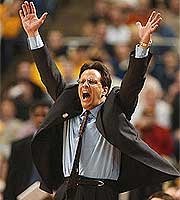 If Indiana University officials sought a clean break from former men's basketball coach Kelvin Sampson, their hire of Marquette's Tom Crean failed to do so. Two of Crean's four assistant coaches have a long history with Sampson. Now marketers wonder how IU will spin this.
Crean, who signed an eight-year $18.24 million deal to coach IU, was introduced as the school's head coach at a press conference today.
By all accounts, Crean has assembled a top-flight assistant coaching staff that many observers expect will follow him to Indiana. Tim Buckley was the head coach at Ball State for six years, and Buzz Williams was the former head coach at New Orleans.
While assistants Bennie Seltzer and Jason Rabedeaux have impressive resumes, they also have some deep-rooted Sampson ties.
Rabedeaux, who was director of basketball operations under Crean at Marquette, was an assistant under Sampson from 1989 to 1999, first at Washington State and then at Oklahoma. After leaving Sampson's side, he spent three years as the UTEP head coach. Rabedeaux has spent the last four years at Marquette.
Seltzer, one of Crean's recruiting aces, was on the Oklahoma staff alongside Sampson for nine years, departing for Marquette when Sampson left for IU. That puts Seltzer at Oklahoma when Sampson first ran afoul of NCAA regulations. Seltzer also played under Sampson at Washington State.
"This couldn't be stranger if you made it up," said a marketer within IU.
Crean indicated at his introductory press conference today, that his current staff would be considered for IU jobs.
"In nine years at Marquette, this is as good a staff as I've ever had, and I've had some really good assistant coaches," Crean said.
David Morton, president of Sunrise Sports Marketing Group, a local sports marketing consultancy, said IU must deal with this issue proactively, especially if Crean decides to bring his assistants with him to Bloomington as college coaches often do.
"Any affiliation these guys have with Kelvin Sampson will have to be addressed and addressed head-on," said Morton, who formerly worked in sales and marketing for Indiana University Sports Properties. "I think Tom Crean and the university will be hyper sensitive about anything that could further dent the school's armor at this point."
Do you think Crean should be allowed to bring the former Sampson associates with him to IU?
Please enable JavaScript to view this content.