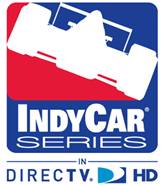 Today, the Indy Racing League officially announced its sponsorship agreement with DirecTV that was first reported on this site March 27. Sources familiar with the multi-year deal said it is worth $3 million annually.
Beginning with the April 6 Honda Grand Prix of St. Petersburg, all IRL races will be carried in DirecTV HD.
As the "premiere official sponsor" for the IRL, DirecTV will be recognized in the series logo, IRL officials said. DirecTV will also receive extensive branding placements throughout each IRL race, including in-car camera mounts, placement on all driver uniforms and cars, and branding throughout pit road. The Fan Zone at each track will also feature DirecTV co-branded interactive kiosks where race fans can learn about the racing history, components of each car, and get updated stats on each driver and race.
In addition to its league sponsorship, DirecTV has also become a primary sponsor for Vision Racing, which is operated by IRL boss Tony George. Locally based Just Marketing International helped broker the DirecTV deal.
Now that IRL officials have the DirecTV deal signed, they are focused on finding a title sponsor.
Check out the new series logo shown with this posting and let us know what you think.
Please enable JavaScript to view this content.