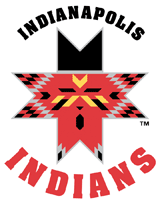 The Indianapolis Indians might be a minor league professional sports team, but the AAA franchise's Web site is a major league success, team officials said. The Indians are the first local professional sports team to stream live video of all of its home games on the Internet. And that's not all.
The Indians' web site—www.indyindians.com—features live video of all 72 home games, live audio of all 144 games, a highlights archive, photo galleries, on-line ticket options, game and promotional schedules, press releases, game notes, game recaps, e-mail newsletters and more. The team's financial investment in its Web site seems to be paying off. Last year, 724,855 fans checked out the site, making it one of the five most popular web sites in Minor League Baseball. Sports marketers think the site could top 1 million unique visitors this season.
"IndyIndians.com is about building a bond with our fans and allowing people to be more connected," Indians Director of Marketing Chris Herndon said. "The actual games make up our core product. While we will never be able to replicate that experience on the Internet, the Web site still builds a stronger bond between our fans and team."
Several attractions on IndyIndians.com were made possible and affordable through a partnership between the Indians and Baseball Advanced Media—the Internet technology company for Major League Baseball. In-game features include multimedia technologies and pitch-by-pitch statistics.
"Without BAM, some of the options would have been cost-prohibitive. "This creates economies of scale," Herndon says. "Now, we can get on-line quicker and more affordably."
BAM project manager Nathan Blackmon calls the Indians one of professional baseball's most proactive clubs in using the Internet. "They get what the Internet is all about," he said.
The Indians have seen their Web site traffic grow exponentially over the past few years. Not only has the volume of content increased, but fans can also buy and print out tickets from their home computer. Herndon said the number of on-line ticket orders jumped 37 percent from 2005 to 2007. Last season, 44 percent of Indians tickets ordered on-line were the print-at-home variety.
"That's really created a convenience for people," Herndon said. They don't have to wait for them in the mail, and they don't have to stand in a will call line."
Please enable JavaScript to view this content.