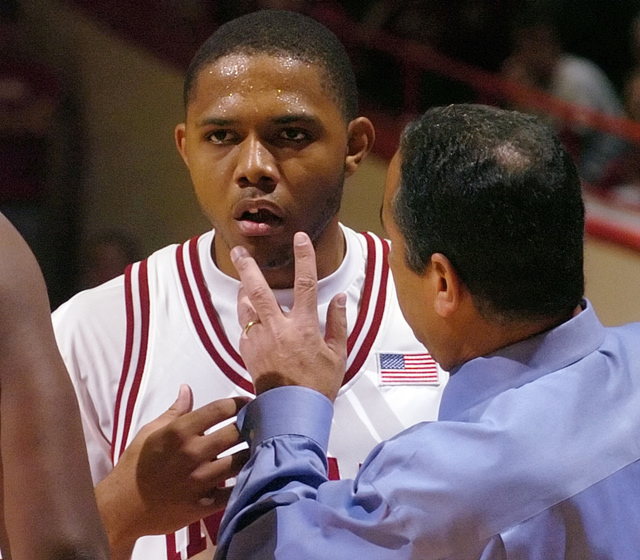 Indiana University freshman Eric Gordon this afternoon is expected to declare himself eligible for the National Basketball Association draft. Whether he could use another year of college seasoning or not, NBA teams are prepared to throw millions of dollars at Gordon. Every NBA franchise has scouted IU's highest-ever scoring freshman, draft analysts said.
Though NBA teams rarely comment on prospects, especially those who haven't officially declared for the draft, sources close to the Indiana Pacers said team officials have kept a close eye on Gordon's play this year.
Chris Monter, an 18-year NBA draft analyst and editor of Monter Draft News, projected Gordon to be drafted between the sixth and 12th pick, depending on who else comes out of college early. Gordon's late-season shooting slump didn't hurt his prospects much, Monter said, but the hot play of UCLA's Kevin Love, Memphis' Derrick Rose and Kansas State's Michael Beasley have boosted their stock above Gordon's.
After this weekend's NCAA Final Four and the current crop of underclassmen announce their intentions for next year, Gordon's draft status will become more clear. But, chances are the Pacers, who are very unlikely to make the playoffs, have a solid shot at landing the North Central High School graduate. No doubt, scads of area Pacers and Gordon fans would be pleased.
But basketball insiders aren't sure it would be the best thing for Gordon or the answer to the Pacers' problems. "He would be coming to the Pacers with an S on his shirt," said David Morton, president of locally based Sunrise Sports Marketing. "Carrying the flag of savior for the sake of a local community is a very difficult task."
But, if he's available, Morton thinks the Pacers would likely consider taking him. Despite Gordon's "dynamic personality," Morton thinks the match with the Pacers could spell trouble.
"Does drafting Eric Gordon help sell tickets? Sure," Morton said. "Does drafting Gordon provide a feel-good? Yes, but the Pacers problems are deeper than that. I think it could create somewhat unrealistic expectations and a potentially difficult situation for Eric Gordon."
"Still," Morton said, "if all things are equal, the Pacers probably draft him."
Please enable JavaScript to view this content.