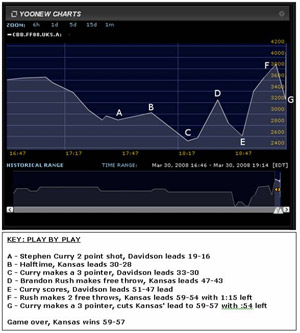 Day traders have infiltrated the sports ticket market. Interest in Yoonew.com, an electronic ticket exchange where fans can trade sports tickets like stocks, is growing in popularity nationwide. The site gets a significant bump in action during the NCAA men's basketball tournament, especially in hoops hotbeds like Indiana.
Yoonew provides a real-time trading platform and can answer the question: How many dollars is a three-pointer worth? As you can see in the illustration with this story, the biggest plays of Sunday's Davidson-Kansas game had a dramatic effect on the value of a ticket to see Kansas in the Final Four. For instance, Stephen Curry's three pointer with 54 seconds remaining (point G) made ticket prices fall by $600.
Sports fanatics David Kuretich and Eric Steffens are two Yoonew traders from Chicago who claim to have made thousands of dollars off such highlight reel plays. Setting up their own private trading floor in David's living room, the two friends bought and sold futures contracts for Final Four tickets throughout the tournament.
"On game days, 20 minutes before tip-off we check the Internet and hook up the antenna to my TV because it's faster than cable," Kuretich said. "When we're trading, the smallest delay can cost a thousand dollars!"
Is Yoonew out-of-hand gambling or just another example of healthy capitalism?
Please enable JavaScript to view this content.