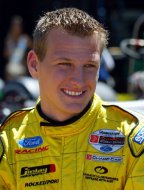 NASCAR rookie Michael McDowell owes Indy Racing League leaders—and especially Tony George—a measure of gratitude.
If not for research funded by the IRL and George, and led by the University of Nebraska, McDowell, 23, could well be dead today.
Friday, McDowell plowed into turn one at Texas Motor Speedway while one his second NASCAR Sprint Cup qualifying lap there.
But the turning point for McDowell's near death experience likely came in May, 2002. That's when George decided not to charge other race tracks a licensing fee for the SAFER—Steel and Foam Energy Reduction—barrier technology that padded McDowell's impact Friday. That move, motorsports business experts said, cost George millions of dollars.
Replays of McDowell's crash show the wall moving inward several feet as it absorbs the blow. It was still a horrific crash, with McDowell's car flipping at least eight times.
Eddie Gossage, as the Texas Motor Speedway general manager, was one of the first to jump on the SAFER barriers band wagon.
"This is a big, big step," Gossage said in 2002, shortly after SAFER barriers were introduced. "Not only could this save lives, it could save teams a lot of resources in crashes. We definitely have interest in this, and I think most other tracks will too."
While Gossage's prophesy about saving lives might well have come true, he was wrong about most other tracks having immediate interest. Eventually, safety won out over ignorance and an unwillingness to spend money to have the walls installed. In 2002, it cost a super speedway about $750,000 to install SAFER barriers. A licensing fee would have likely caused some track officials nationwide to drag their feet even more on installation.
It's difficult to say how many lives the SAFER barriers have saved. Racing experts said the lives saved, like the money George could have made off the technology, is a big number.
"There are more than 1,200 short tracks in this country alone," said Dick Berggren, long-time Speedway Illustrated editor and retired racer. "Tony George spent a lot of money on this and you can begin to see the revenue he's walking away from. The development of this was not easy."
"If there's a Nobel Prize for this sort of thing," Gossage said in 2002, "Tony George should get it."
Please enable JavaScript to view this content.