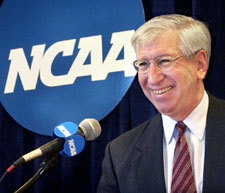 The NCAA and National Basketball Association announced today from the site of this year's Final Four in San Antonio that they are going in business together.
As reported in the March 17 Indianapolis Business Journal, the pact marks the first time the NBA and NCAA have entered a formal business agreement.
According to NCAA President Myles Brand the NCAA and NBA will set up a "new corporation, a legal entity separate from the NCAA and NBA" for the purpose of helping develop youth basketball initiatives nationwide. Brand and NBA Commissioner David Stern said the initiative is a work in progress.
Representatives from almost every U.S. organization involved in basketball were at the press conference to support the initiative, including officials from Nike, Adidas, Reebok and the Amateur Athletic Union. Sources told the IBJ in March that some of those factions opposed the NCAA-NBA initiative which could involve launching co-branded youth leagues and tournaments in addition to development programs for coaches and officials. The NBA Players Association also supports the initiative, Stern said.
Stern and Brand emphasized that the initiative is not merely about enhancing the quality of players in the college and professional ranks, but is intended to enhance life lessons for all young boys and girls involved in basketball. The duo was peppered with questions from a packed media room at the Grand Hyatt San Antonio.
"Youth basketball has problems," Brand said. "We have all seen the good, the bad and the ugly. The NCAA realizes we can't solve these problems through regulations alone. The answer to the problems we strongly believe as a group must be solved in the marketplace through a new corporate joint effort, and we are in the process of putting that together."
Brand said the new entity will play the role of "national organizing body." While USA Basketball is the nation's sanctioning body, it is primarily responsible for organizing teams for international play. USA Basketball President Val Ackerman said she supports the NCAA-NBA initiative.
Stern said part of the plan is to more effectively identify elite players to develop on and off the court, and to grow the game of basketball as whole. Both of those objectives, sports business experts said, fit well with Stern's objectives of growing the NBA.
Please enable JavaScript to view this content.