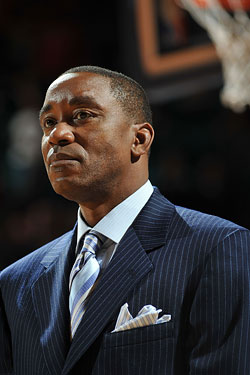 Donnie Walsh has spent the last few days in Indianapolis cleaning out his Conseco Fieldhouse office and gathering his belongings to head back to New York where he will begin his post this week as president of the N.Y. Knicks in earnest.
On his agenda later this week is a meeting with Knicks coach Isiah Thomas, who Walsh once hired as the Indiana Pacers coach. Walsh staunchly defended Thomas even while he was under fire in Indiana. But this time, National Basketball Association sources said, Walsh will move to fire Thomas—but not until season's end. Thomas, sources said, is expected to lobby Walsh for a Knicks front office job. If history is any indicator, Walsh will likely listen. Walsh said at his Knicks introductory press conference that he wanted to talk to Thomas before any decisions are made. That meeting is expected tomorrow or Thursday.
Thomas would appear to have few options outside of New York if he wants to continue working in the NBA. One possibility, league sources said, is Detroit, where Thomas is still beloved by fans. Since his retirement as a player in 1994, Thomas has had a frosty relationship with Pistons owner Bill Davison. But that relationship appears to be thawing. Thomas has remained on good terms with fellow bad boy teammate and current Pistons President Joe Dumars. Thomas is being honored by the Pistons as one of the team's top 30 all-time players and is expected to be a featured speaker at an upcoming ceremony for the all-time greats.
Walsh, meanwhile, should have a busy off-season in New York, with or without Thomas. In addition to expected coaching changes, Walsh indicated that he is not pleased with the Knicks roster.
"It's almost like the Knicks have a team that would have been good eight years ago," Walsh recently told New York Magazine. "Now we're in the age of high flyers, all these kids shooting up and down the court. The world has changed."
Please enable JavaScript to view this content.