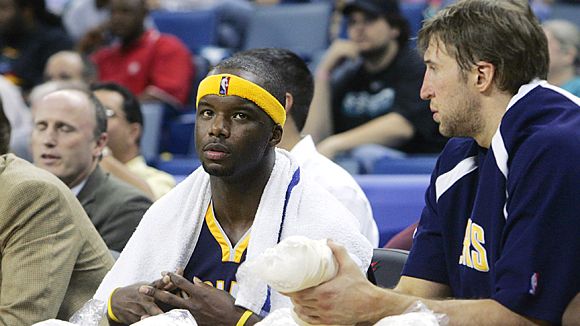 The Indiana Pacers are in two races: one to make the playoffs and the other to keep their average home attendance above 12,000.
Last night against the Atlanta Hawks–arguably their biggest game of the season–the Pacers took a step toward the playoffs with a victory, but a step backward in attendance. Indiana closed Atlanta's lead over the Pacers for the eighth and final Easter Conference playoff spot to two games with four games remaining.
The announced attendance of 10,876 took the Pacers season home average down to 12,016, last in the 30-team NBA. The announced attendance included at least 2,000 season ticket holders who either didn't bother showing up or were hanging out in the bathroom or concession areas the entire game. The lower bowl at Conseco Fieldhouse–home primarily to season ticket holders–wasn't anywhere near full.
Few hoops prognosticators expect the Pacers to make the playoffs. But there is far more intrigue over the team's ability to keep its home attendance above 12,000. With home games left against Charlotte Saturday and lowly New York next Wednesday, the franchise has a solid chance at seeing its attendance dip below 12,000 for the first time since the 1985-86 season.
While the Pacers have a slim chance of catching the Hawks for the eighth playoff spot, barring a telethon ticket sales effort the team has no chance of catching any NBA franchise in average home attendance. Here's a look at the league's bottom five.

25. Minnesota 14,331

26. Sacramento 14,119

27. New Orleans 14,101

28. Seattle 13,282

29. Memphis 12,717

30 Indiana 12,016
Please enable JavaScript to view this content.