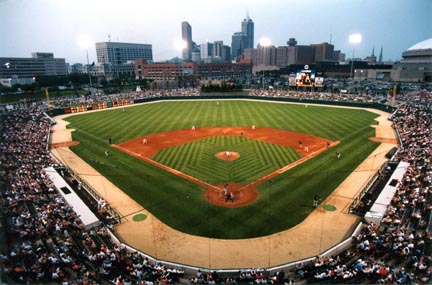 The Indianapolis Indians announced today they have signed a four-year extension on their player development contract with the Pittsburgh Pirates. The new agreement runs through the 2012 season.
Indianapolis posted a 224-205 regular-season mark during its first three years as Pittsburgh's AAA affiliate. Over 30 Tribe players also received big league promotions during that same time frame.
After four rocky years with the Milwaukee Brewers, the agreement ushers in a welcome era of stability concerning the Indians' Major League Baseball parent club. A stable MLB partner is key because the major league franchise is responsible for paying players and fielding a competitive roster full of hot prospects.
The Pirates affiliation, which began in 2005, has been a success on and off the field, Indians officials said. It has helped the Indians produce winning baseball teams, International League playoff clubs and strong attendance numbers, team officials added.
Indianapolis stayed above .500 for 145 straight days (April 5-Aug. 28) during the 2007 campaign. Since 2005, the Indians have spent 442 of 452 days at .500 or better. The streak includes 281 consecutive in-season days from April 22, 2006 to Aug. 28, 2007.
Indianapolis also spent 69 straight days (April 16-June 23) atop the IL's West Division during the 2007 season. In 2006, the Indians spent 119 days in either first place or tied for the top spot.
The Tribe enjoyed the IL's second-best attendance increase in 2007, jumping 10 percent from an average of 7,608 to 8,383. The Indians hosted 586,785 fans at Victory Field last year—their best regular-season attendance total since 2001.
Listed below are the Indians' MLB partners over the last four decades

2005-present Pittsburgh Pirates

2000-04 Milwaukee Brewers

1993-99 Cincinnati Reds

1984-92 Montreal Expos

1968-83 Cincinnati Reds
Please enable JavaScript to view this content.