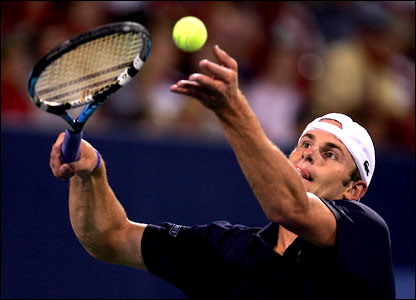 The ATP is considering placing its name across the nets at all of its tournaments, a groundbreaking move that is drawing criticism from tournament promoters.
As a test, the men's tennis circuit placed its new moniker, ATP World Tour, on the nets of practice courts at the Pacific Life Open last month in Indian Wells, Calif.
Tournament promoters are worried about the effect such branding could have on their title sponsors as well as whether the branding could detract from the Olympus U.S. Open Series, the four-year-old branded circuit of summer hard court events in which the U.S. Tennis Association has invested tens of millions of dollars. The ATP tournament in Indianapolis is part of the U.S. Open Series.
"When a title sponsor makes a major investment in a tournament, they buy the tournament brand," Anne Worcester, director of the men's and women's Pilot Pen Tennis tournaments in New Haven, Conn., told Street & Smith's Sports Business Journal. Whether the ATP name on the nets "diminished that title sponsor branding is a real issue," she said.
Organizers of the Indianapolis tournament—held July 12-20 this year—would appear to have much to be concerned about. After losing RCA as its title sponsor following the 2006 tournament, officials for the Indianapolis ATP Tour stop just signed a major deal with Eli Lilly Inc., and the tournament has become known as Indianapolis Tennis Championships presented by Lilly. Protecting Lilly's interests, sports marketers said, is paramount for local tournament organizers.
USTA officials are worried the ATP's effort to stamp its brand so blatantly in the field of play could hamper efforts to market the Open Series, which includes six ATP events. There also is concern about corporate clutter, with the ATP's corporate sponsor logos already on the net posts.
ATP officials said they are still testing the idea and are seeking feedback from players, fans, sponsors and television partners. It is not yet clear if ATP will plaster its brand on nets at Indianapolis this year. ATP officials said they would continue testing on practice courts and make a decision after Wimbledon, which concludes July 6.
Please enable JavaScript to view this content.