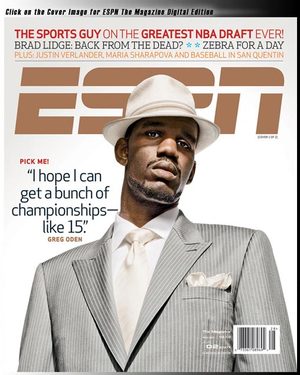 As a senior at Lawrence North High School, Greg Oden was the most televised high school player since LeBron James. And he hoped to be a small screen star after he became a celebrated No. 1 pick in last year's National Basketball Association draft.
Sources close to Oden said the 7-foot center hoped to develop a broadcast career while his on-court star burned bright. But a knee injury, which has kept him off the court for his rookie season, has derailed that plan so far.
Oden's handlers, eager to keep him in the public eye, inked a deal with ESPN that rolled out humorous TV and print ads showcasing the big man's marketing appeal and versatility. That move, sports marketers said, was to maximize his value as a corporate pitchman as well as position him for a post-basketball broadcast career.
Oden may face long odds as marketers try to figure out his on-air value. Big men have not traditionally been the NBA's brightest off-court stars. There are exceptions, of course, including the colorful Shaquille O'Neal. But those are big shoes to fill.
The big knock so far on Oden is that he's quiet, stiff and dry. He tries to dispel those notions in the ESPN spots.
"I don't think it's the position a player plays, it's how he presents himself," said Nova Lanktree, executive vice president of marketing services for CSMG International, a Chicago-based firm that represents athletes in commercial deals. "Those ESPN commercial are catalytic. They're a solid move for him."
Lanktree is in a position to know what works. She works extensively with NBA stars Dwayne Wade and Chris Bosh.
"Greg has to work on an appeal that transcends hard-core sports fans," Lanktree said. "That's what companies and marketers are looking for. Right now, we just don't know enough about Greg Oden to know if he'll be successful on-screen and in marketing. His handlers have to increase his visibility. That's what will keep the cycle of his initial hype into the league going."
Lanktree said Oden will be hurt by playing in Portland. "It's a small, remote market," she said. "And since it's way out west, the media exposure there is not great."
Before worrying about a TV or marketing career, Lanktree recommends Oden concentrate on basketball.
"He needs to make an impact on the court," she said. "Then he can build a clear brand of who he is and what he stands for."
Please enable JavaScript to view this content.