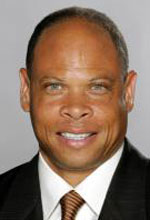 Former Indiana University assistant men's basketball coach Ray McCallum has been hired as the University of Detroit Mercy's new head coach.
UDM athletic director Keri Gaither made the announcement today during a press conference at Calihan Hall at 3:30 p.m. today.
Terms of McCallum's deal were not disclosed but sources familiar with the situation said it is a multi-year contract worth low to mid six-figures annually.
McCallum becomes the 20th head coach in the history of UDM, which plays in the Horizon League along with Butler. McCallum replaces Perry Watson, who retired from the position on March 5.
There has been much speculation about McCallum since IU head coach Kelvin Sampson left the program amid allegations that he broke NCAA rules. IU players had lobbied to have McCallum elevated to head coach after Sampson resigned. Instead IU made Dan Dakich the head coach. IU said it would pay McCallum through next year, but new coach Tom Crean, who was hired from Marquette, gave no indication he would give McCallum a position within the Hoosiers' basketball program. Ironically, two of the candidates Crean is considering—Bennie Seltzer and Jason Rabedeaux—also have deep connections to Sampson. Seltzer and Rabedeaux were on Crean's staff at Marquette.
"This is a tremendous day. UDM has a great basketball tradition and I'm glad to be part of the next chapter," McCallum said at today's press conference. "I have recruited in the area throughout my coaching career and I know the passion for basketball Detroit fans do possess. I'm very pleased that the UDM administration has chosen me for this position."
McCallum brings 11 years of head coaching experience with him to UDM, having previously served in that role at his alma mater, Ball State (1994-2000), as well as Houston (2001-04). He took four teams to post-season play during his career at those schools.
"Coach McCallum's track record speaks for itself, but I am also very pleased with the way he has put emphasis on the word 'student,' in talking of the many student-athletes from a wide variety of backgrounds that he has worked with during his career," said Father Gerard Stockhausen, President of UDM, a private Catholic university. "His vision for Titan basketball is very consistent with the mission of our University."
McCallum and his wife, Wendy, are the parents of a daughter, Brittany Rae,18, and a son, Ray Michael,16, who was a standout high school player at Bloomington North last season.
Please enable JavaScript to view this content.