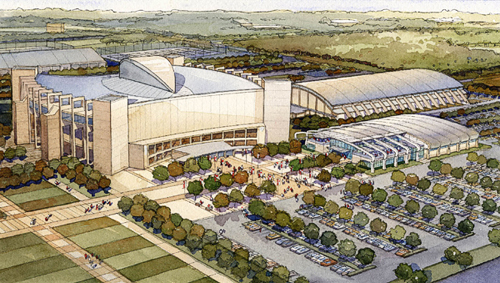 New Indiana University basketball coach Tom Crean is convinced athletic facility improvements under way on the Bloomington campus will help the Hoosiers return to dominance.
Crean told a group of mayors from southern Indiana gathered in Bedford late last week that the new facilities would help his players be serious students, and those who weren't genuinely pursuing a degree would not be with the team.
Ground was broken on the $55 million project last August, and includes enhancements to the north end of Memorial Stadium, improvements to the school's baseball and softball facilities, and construction of the Indiana Basketball Development Center on the south side of Assembly Hall.
The $15 million development center, which is set to be done in September, will serve as the headquarters for the men's and women's basketball programs. It will feature practice courts, locker rooms, coaches' offices, meeting rooms, a training room and strength-development area.
IU's Student Development and Compliance unit will relocate as a part of the facilities plan, moving from a modest 2,500-square-foot space in Assembly Hall to a renovated 18,000-square-foot area on the east side of Memorial Stadium. Target move-in date is spring 2009. Classrooms, private tutoring space, study areas, computer labs and staff offices will be housed in the Academic Center for Excellence.
"It enhances the image of how serious everyone is about progress, about moving forward," Crean said at the Bedford gathering. "It's a great selling point. Indiana is not going to take a back seat to anyone. Facilities don't win games, but they help you get to the point where you're able to do it."
Crean also said the facilities get the point across that IU is serious about recruiting student-athletes.
"Some coaches say they'll graduate anyone who wants to graduate," Crean said. "I do not subscribe to that theory. If you're not working toward graduation, you will not be here.
"This will be the last time we'll major in eligibility. We won't be doing that at Indiana. We'll be majoring in majors that count. These young men have to figure out how serious this is."
The construction will be paid for from two primary sources. Bonds will be issued that are backed by revenue from the athletic department's operating budget, media-rights income and money distributed by the Big Ten to member schools. The remainder will be generated through an ongoing fund-raising campaign called For The Glory of Old IU.
In addition, a major gift toward the campaign was announced last year when Larry Glaubinger committed $10 million to the IU Glaubinger Athletic Endowment fund.
Please enable JavaScript to view this content.