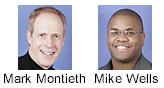 Indianapolis Star sports reporter Mark Montieth has covered his last Indiana Pacers game for the paper he dreamed about working for since he was a young child.
Effective at the end of today, Montieth, 52, is leaving the Star after 14 years, most of those spent covering the Pacers and the National Basketball Association. Montieth spent a decade at the Star as the Pacers beat writer covering all the games and team happenings. In recent years, Montieth yielded that job to Mike Wells, and focused on analysis pieces about the Pacers and NBA, along with branching out to write about other sports topics and teams.
Montieth, who previously covered sports for the Marion Chronicle and Fort Wayne Journal Gazette, said he is leaving the Star to pursue a free-lance writing career and perhaps pen his second book.
"I felt like I reached a dead end here," Montieth said. "It seemed like it was the right time to look at other opportunities."
In addition to covering the Pacers in the Star's print edition, Montieth also wrote a blog for Indystar.com and was a regular guest on WTHR-TV Channel 13, ESPN Radio and WNDE-AM 1260 sports talk radio.
A native Hoosier and 1973 graduate of Pike High School, where he played basketball, Montieth said he has no intention of relocating.
Montieth, who wrote a book chronicling the 1987-88 Purdue University men's basketball season, said he already has several corporate research and writing projects in the works. Since those deals are not yet finalized, he wouldn't disclose more about them.
Montieth said he'll have some misgivings about his departure.
"I'll miss the games, no doubt," he said. "I always felt grateful about getting paid to go watch basketball games. And I'll miss the newspaper profession. As a 12-year-old kid, I could have told you I wanted to be a sports writer for the Indianapolis Star."
Montieth said his most memorable moments at the Star included covering the Pacers 2000 run to the NBA finals and two days in 2006 spent at John Wooden's California home doing research for an in-depth article about the Wizard of Westwood.
"I remember he had a cold, and he sat in his chair in a robe and we talked deep into the night," Montieth recalled of his interviews with Wooden. "We talked about everything. That was unforgettable."
Please enable JavaScript to view this content.