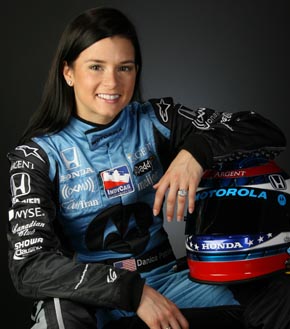 The effect of Danica Patrick's victory is being felt from Japan to Kansas.
A measurable surge in ticket demand for today's Indy Racing League's race near Kansas City, Kansas pushed the event near its 82,000 capacity, said Kansas Speedway officials. Last year's race drew fewer than 70,000, but was still one of the largest IRL crowds outside Indianapolis.
Media credential requests are up from 250 last year to more than 400 this year, said Kansas Speedway spokeswoman Kelly Hale, with more than 100 requests coming in after Patrick's victory at Motegi Japan last week.
"We've definitely seen an increase in interest in the race from both fans and the media since Danica's victory," Hale said. "The phones here have been very busy this week."
Hale said many fans calling about tickets have inquired specifically about Patrick, who was at the center of several media gatherings and an autograph session with fans yesterday at the track. Patrick's merchandise trailers are also doing a brisk business at Kansas, IRL officials said.
Target Ganassi Racing teammates Scott Dixon and Dan Wheldon qualified first and second for the race which will air live today at 5 p.m. on ESPN2. Patrick, who April 19 made history by becoming the first female to win a major closed-course auto race, posted a four-lap average of 213.225 mph and will start third.
Please enable JavaScript to view this content.