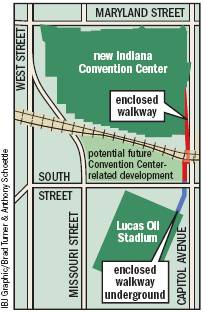 Details of a crucial aspect of the Lucas Oil Stadium-Convention Center project could be revealed today as city and stadium construction officials meet to discuss the project.
The construction timeline on the $10 million connector between the expanded Indiana Convention Center and the new retractable-roof stadium is not yet clear, said project officials. Since construction on the Convention Center will continue after the new stadium opens, it is likely the connector will not be ready for the Indianapolis Colts' season opener this fall.
The connector, sports business experts and convention planners said, is a crucial yet seldom highlighted part of the project.
The enclosed connector will be built at street level along Capitol Avenue and connect to the south end of the soon-to-be expanded Indiana Convention Center. It will duck underground at South Street and span another 50 yards or so before connecting to Lucas Oil Stadium. The connector allows visitors to many downtown hotels, stores and restaurants to walk to the stadium without going outside.
It will be essential in drawing some of the largest events this city hosts: mega-conventions and NCAA Final Fours—the kinds of events that have hundreds of millions of dollars in economic impact on Indianapolis each year. It will be a cornerstone in the city's bid to host the 2012 Super Bowl.
"Without this [connector], I think you could kiss any chance of luring the Super Bowl goodbye," said Marc Ganis, president of Sportscorp Ltd., a Chicago-based sports business consultancy. "And the NCAA had a strong interest in seeing this for their events as well."
The connector's impact goes beyond sports. Organizers for several of the city's largest conventions, two of which have left Indianapolis in search of more convention space, have said having access to a convention center and stadium are paramount to their operating here.
Please enable JavaScript to view this content.