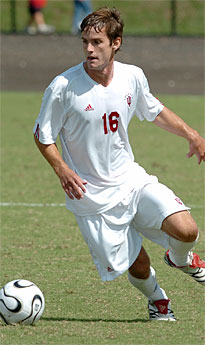 Indiana University today signed an eight-year deal with Adidas that will net the school's athletic department $21 million in cash and products over the course of the agreement.
Portland, Ore.-based Adidas will supply footwear and apparel for all 24 of the university's sport programs as part of the pact. The deal includes uniforms, training apparel and sideline gear and accessories for athletes and coaches.
The new agreement extends Indiana's partnership with Adidas, which has been the official footwear and apparel supplier for the Hoosier since the 2004-05 academic year.

The new contract begins with the upcoming 2008-09 academic year and extends through the 2015-16 seasons.
Adidas supplanted Nike as IU's shoe and apparel provider after an open bidding process in the spring of 2004. A Nike deal was ushered in while Mike Davis was basketball coach in 2001, but Adidas, which had a previous relationship with IU, came back to school officials to sweeten the offer in late 2003. This time, school officials said, Adidas' offer couldn't be beat.
"We appreciate [Adidas'] willingness to provide our student-athletes and coaches with the best products to aid their development and training, as well as their financial assistance to our department," Indiana Athletics Director Rick Greenspan said.
The Hoosiers are one of three Big 10 schools that have a similar Adidas deal. The other two are Michigan and Wisconsin. Other Adidas schools include Notre Dame, UCLA, Tennessee, Nebraska and Kansas.
In addition, Adidas has marketing agreements with the National Football League, National Basketball Association and Major League Soccer.
Please enable JavaScript to view this content.