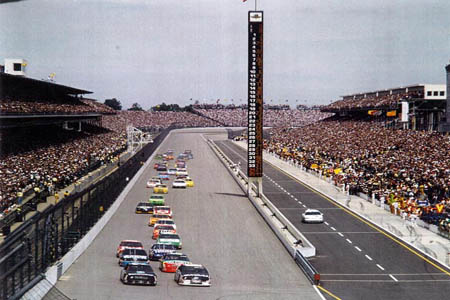 Race fans can now buy one ticket to see the Indianapolis 500, Brickyard 400 and inaugural Red Bull Indianapolis GP motorcycle race.
The Indianapolis Motor Speedway for the first time is offering a general admission season ticket for all three of its events in 2008.
The season ticket provides gate admission for a combined nine days over the three events, including all three race days, for $150.
While other race tracks nationwide have pushed ticket sales by offering a combination offerings, IMS until now has chosen to market its events separately.
The combination ticket includes admission to several May events including Carb Day, Firestone Freedom 100 and the Indianapolis 500 drivers' meeting the day before the race.
The ticket also allows fans in for various practices and qualifying sessions for the NASCAR and motorcycle race. An IMS season ticket provides the only way for fans to obtain general admission race day access to the Brickyard 400. IMS officials said it also comes with a prize package.
"We're pleased to offer a season ticket as a great value to our loyal fans," said Joie Chitwood, IMS president and chief operating officer. "The season ticket provides a savings of $25 and also offers a variety of other bonuses for fans."
Please enable JavaScript to view this content.