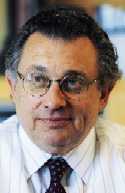 The Indiana Pacers are hitting the streets of central Indiana in an attempt to reach out to the local corporate community. Pacers officials are also considering hosting a draft-day party to help reconnect with the team's larger audience.
Last week, Pacers co-owner Herb Simon, team president Jim Morris and vice president of corporate relations Greg Schenkel stepped out to meet with a few corporate higher-ups, including a visit to the Indianapolis Business Journal to meet with publisher Chris Katterjohn and members of the editorial staff.
It's a rare move headed by a behind-the-scenes co-owner, who has taken a hands-on approach and the title of CEO and chairman since the departure of former Pacers president Donnie Walsh last month.
Sources close to the team said sponsors have been impressed with the effort, especially by Simon. The Pacers are in a critical off-season period of trying to renew season tickets and suite leases.
At the IBJ offices last week, Simon explained that it is time for him to get out front to explain plans for bringing the Pacers back to their winning ways. Simon said since taking his new hands-on role, he has been re-energized, and vowed not only to make the team a winner but turn it into one "the community can be proud of."
Simon and Morris were just as eager to trumpet the virtues of the WNBA's Indiana Fever.
"This is one of the best teams in the WNBA and has a chance to bring this community a championship. We have to find a way to let more people know about this team," Simon said. "I think this team is a real asset to this community."
If the Pacers go forward with plans for a draft-day party open to the public, it would be the first time the team has hosted such an event since 1993. While Pacers spokesman David Benner said plans for the party are not yet finalized, sources close to the team said Pacers officials are merely waiting until after May 20, when it will be determined in what order the Pacers will draft.
The Pacers could get either one of the first three picks, or could select somewhere from the No. 11 to No. 14 position. The higher the Pacers pick in the June 26 draft, sources said, the more likely there will be a draft party, which no doubt will be a marketing tool used to pitch sales for full and partial season-ticket packages.
Please enable JavaScript to view this content.