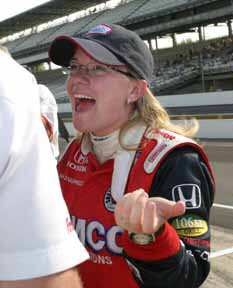 While ResQ Pure Power Energy Drink is out as Sarah Fisher's primary sponsor, there is no shortage of white knights coming to this damsel's rescue.
Yesterday, Bingham Entertainment & Sports Talent, was the first to throw Fisher a lifeline, agreeing to a two-year deal to represent her fledging open-wheel race team, Sarah Fisher Racing, in sponsorship and endorsement deals.
Bingham EST, a division of Indiana's fourth largest law firm, Bingham McHale LLP, said the opportunity to help a fan favorite was too good to pass up.
"There are not many opportunities in this sport to be a part of history," said Joe Champion of Bingham EST. "This is an exciting time for open-wheel racing, for the Indianapolis 500, and for Sarah Fisher Racing, the first female driver/owner team in 30 years."
Lyn St. James had her own team in the 1990s, so it's not quite 30 years. But who's counting?
Bingham EST agreed to help find and sign sponsors for a commission that ranges from 5 percent to 25 percent, Champion said. The interest in SFR, he said, has been "significant," but added, "These deals take a little bit of time." 
The relationship won't likely bring in the $700,000 Fisher will need to qualify and run competitively this month, but she'll take every dollar she can get.
To that end, WFNI-AM 1070 yesterday started Sarah-thon 2008, soliciting donations from Fisher fans to keep her team afloat. And Fisher's fan base takes a back seat to no other. The affable 27-year-old from Commercial Point, Ohio, was voted the Indy Racing League's most popular driver by fans in 2001, 2002 and 2003. Motorsports marketers said Fisher's troubles with ResQ have fortified her fan base.
Fans who want to support Fisher can send a check to David A. Noyes & Co. in Indianapolis. Fisher said she decided to set up the account after fans started calling about giving money and even handing her personal checks at the track Sunday.
WFNI afternoon hosts Eddie White and Bob Kravitz were heavily promoting Sarah-thon during their show yesterday and plan to continue to trumpet the effort throughout the week.
"We have had so many emails and calls from fans requesting to donate to our efforts this year," Fisher said. "I'm truly honored to have the support of so many fans."
The local social networking Web site, SmallerIndiana.com, also jumped in yesterday, starting a campaign among its clients to raise several thousand dollars for Fisher and possibly even become an official team sponsor.
Aid is coming in from across the country—from fans and businesses alike. Yesterday, officials for Vapor Trail Racing, a Denver-based automotive parts maker geared toward racing, spread the word among its associates that Fisher needs financial support.
Fisher, marketers said, might finally be gaining the momentum she needs to run the IRL series full-time in 2009 as planned.
Please enable JavaScript to view this content.