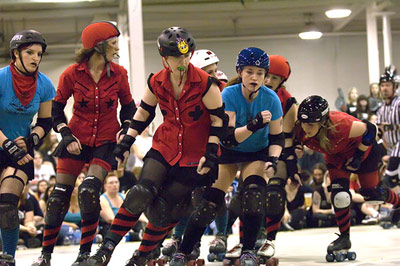 The Naptown Roller Girls expect their fourth straight sell-out May 17 in the 4,000-seat Toyota Blue Ribbon Pavilion at the Indiana State Fairground. That will make four for four in sell-outs this year, with just one home game remaining June 14. Not bad for a start-up team in a start-up league, The Women's Flat Track Derby Association.
The rabid fan following has spurred talk of moving the team's games—possibly even to Pepsi Coliseum—next season.
The Roller Girls' success at a time when many women's professional sports leagues are having difficulty gaining a strong, consistent fan following is baffling to sports marketers.
The roller derby league is a remake of the roller derby fans loved three decades ago. While some women have stage names, the current league is lighter on theatrics and heavier on competition than its 1970s forerunner. 
Doors for this Saturday's 7 p.m. game open at 6 p.m., and team officials expect all tickets to be gone by 6:15 p.m. Tickets are $10 in advance and $15 at the door—cash only.
The team's Feb. 9 sell out drew almost 4,500 fans for a standing room only crowd. The crowd was so big, team officials had to cap ticket sales for subsequent games.
The locally based women's roller derby team—also known as the Tornado Sirens—is also developing a strong following with sponsors, with 15 deals signed to date. Sponsors include Butler Toyota, Nuvo Newsweekly and Indy CD & Vinyl.
Ticket buyers are warned that game crowds can become exceptionally loud, and that children afraid of loud noises should stay home. Despite the loud atmosphere, team officials said the environment is family friendly. But the first two rows are not for the faint-of-heart. Players occasionally careen off the track and into the crowd.
Please enable JavaScript to view this content.