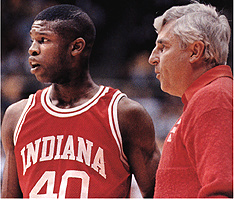 It's difficult to say what's taking Indiana University's new basketball coach Tom Crean so long to hire his third assistant.
IU sports department spokesman J.D. Campbell said May 2 the hire would be made "soon." Since Crean has already brought four of his Marquette staff members along with him to Bloomington–including assistants Tim Buckley and Bennie Seltzer–the logical choice would seem to be another of his Marquette assistants, Jason Rabedeaux.
But Rabedeaux, sources close to the program said, is a little too closely tied to former IU coach Kelvin Sampson. While Seltzer also has deep ties to Sampson, Rabedeaux was known as one of Sampson's ace recruiters. Since recruiting is where Sampson ran afoul of NCAA regulations, many IU insiders think Rabedeaux's link to Sampson is a fuse to a powder keg of controversy.
"I've always admired him from afar and respected him," Crean said of Rabedeaux when he hired him at Marquette in 2004. "He was very instrumental in recruiting most of those guys that played on that (2002) Final Four team. Kelvin Sampson, who I have as much respect for as anybody I could have, thinks the world of him. To me, that was a huge, huge part of this whole equation."
That quote alone is likely enough to make IU higher-ups shiver.
Rabedeaux, who was director of basketball operations under Crean at Marquette, was an assistant under Sampson from 1989 to 1999, first at Washington State and then at Oklahoma. After leaving Sampson's side, he spent three years as the UTEP head coach, before spending four years alongside Crean.
With Rabedeaux out of the equation, Crean was thought to be focusing on someone with IU connections, perhaps Tom Coverdale or Calbert Cheaney. IU has made it abundantly clear that while former assistant and interim head coach Dan Dackich will be paid $185,000 for next year, he will not have a job at the university. Dackich said this week he is looking for a job.
Crean said he doesn't expect to hire anyone with IU ties for the third assistant position. He told members of the media late last month that he had his eye on someone who hadn't been in college basketball "for a while," adding that while the candidate has no Indiana ties, he has "a lot of ties."
Since Crean and Buckley are strong recruiters in the Midwest, speculation centers on someone with strong ties to the East Coast or West Coast.
Anyone have any ideas who the mystery candidate might be?
Please enable JavaScript to view this content.