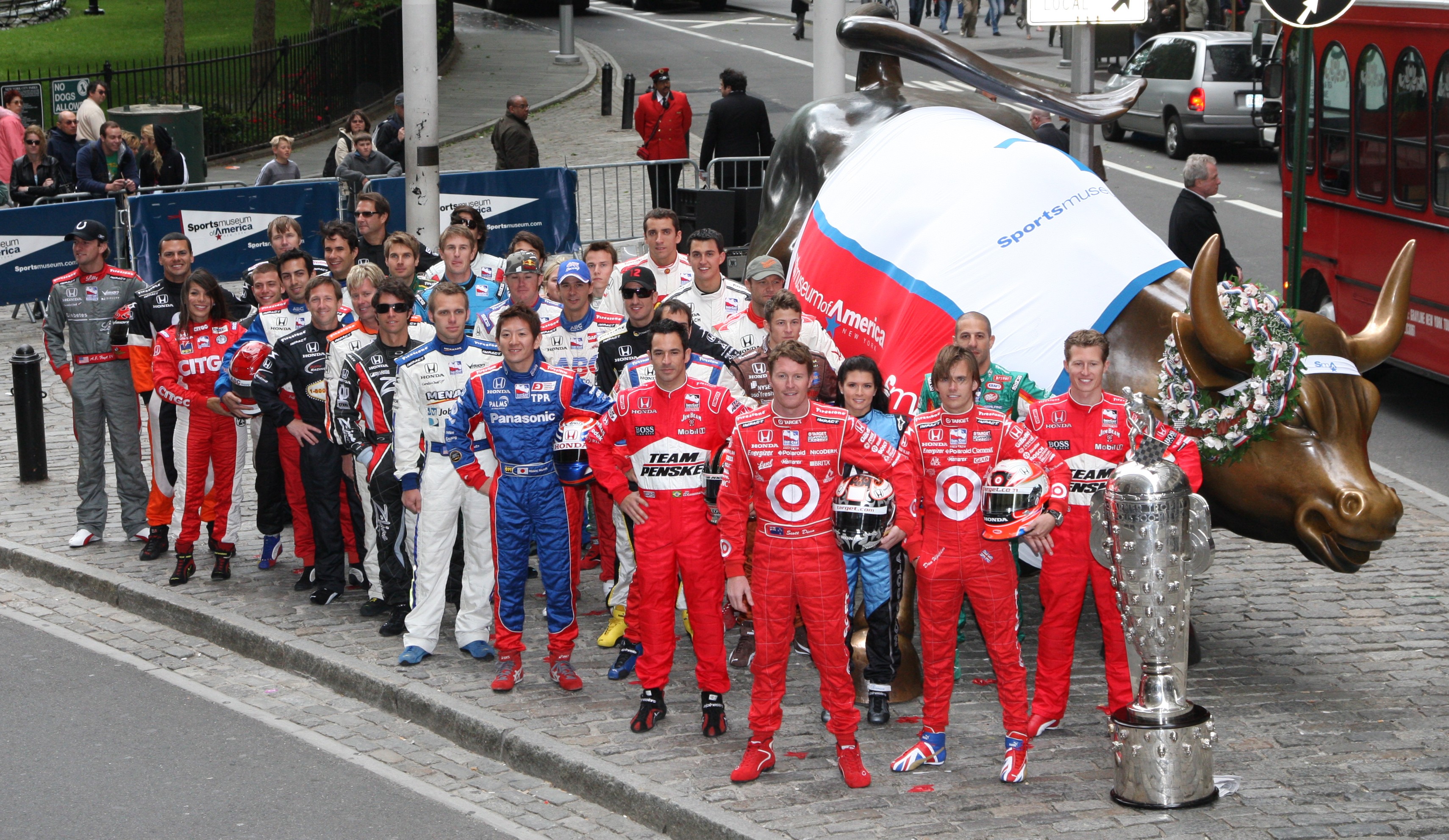 They say a picture says a thousand words. This one taken today of the 33 Indy Racing League drivers that qualified for the Indianapolis 500 in New York certainly does.
Granted, the drivers were arranged by rows, but it's no mistake that media savvy drivers, like those driving for Team Penske and Target Chip Ganassi Racing are all face forward with their sponsor logos clearly showing while the shutter from numerous media outlets are clicking at high rpm.
Heck, Danica Patrick is the height of a leprechaun and she got her mug in there. Kudos too to Milka Duno. Even though she's in the ninth row, she and her sponsor, Citgo, are easily identifiable. A.J. Foyt IV stepped out from behind the driver in front of him to get himself in the shot, unfortunately he covered the logo of his new sponsor, Eli Lilly & Co., with his helmet. Marketing 101, guys. You won't often see that kind of mistake in NASCAR, where a driver doesn't sneeze without mentioning his top three sponsors and the kind of tires and motor oil he uses.
Graham Rahal and Hideki Mutoh, and his sponsor Panasonic, all get high marks for positioning themselves for maximum exposure. Ed Carpenter, Tony George's stepson, got his mug and sponsor, Menard's, some camera time, as did Darren Manning and his sponsor, ABC Supply Co.
Where in the name of Janet Guthrie is Sarah Fisher in this shot? Yes, she too is short, but someone fighting to land a sponsor has to find the camera lens at every opportunity.
At least Fisher can say she was blocked by taller drivers. Jaime Camara was almost entirely blocked by Duno, a driver six inches shorter than he. If Camara had any sponsors, I'm sure they would have been upset. But his lack of sponsorship is a topic for a post I hope to publish later this week.
An astute marketer needs to tell Tomas Scheckter and  Bruno Junqueira that sun glasses are a no-no in these types of photos. True, shades make you look oh so cool, but it also makes you unidentifiable to a public that may be trying to identify with you—or at least identify you.
And somebody needs to tell Vitor Meira that hiding behind Helio Castroneves is no way to get you ahead in life. I'm sure Meira's sponsors, National Guard and Delphi, would have appreciated a step to the left or the right.
I can here Chip Ganassi's and Roger Penske's marketing folks now: "Ladies and gentlemen, positioning starts well before you ever get on the track. Victory starts with the little things."
Please enable JavaScript to view this content.