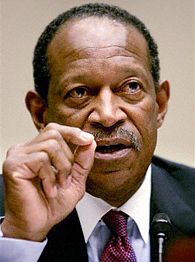 There's a dark cloud hovering over Indianapolis' selection by National Football League owners to host the 2012 Super Bowl.
The roar that raced from Atlanta where the decision was made Tuesday to Indianapolis almost obscured the stormy labor dispute that is brewing between team owners and players.
Sure, it seems like three years is a long way away, but the fact that all 32 team owners voted yesterday to opt out of the current labor agreement with players shows how serious they are. The current labor deal ends after the 2010 season, the season before Indianapolis is to host the big game.
"The current [labor agreement] is just not working," said NFL Commissioner Roger Goodell following the decision. "This has to work financially for both sides. We tried it for two years, and it's not working."
Moments after the decision, NFL Players Association chief Gene Upshaw summoned reporters in Atlanta to a conference call, where the tension could be heard in his voice. Upshaw said communication has broken down between players and owners, and he didn't like the way the matter was being handled by owners.
By all accounts, it sounded like this could be a protracted fight. Just how long? Who knows?
If they can't get a deal worked out, Upshaw said there could be a work stoppage. And a work stoppage would certainly jeopardize the 2012 Super Bowl. And if the NFL resorts to using replacement players all the way through the Super Bowl, that would be devastating on the economic impact here.
"You'd think they'd get this worked out by then, but its difficult to say what these guys will do," said ESPN analyst John Clayton, who was in Atlanta covering the meetings.
Indianapolis Colts owner Jim Irsay seemed somewhat concerned, but quickly pointed out that a work stoppage has never halted a Super Bowl. Goodell said the effect of a work stopage on the Super Bowl host city is an issue on the minds of all team owners.
"It's a bit of a dark cloud," Irsay said. "But I'm hopeful we'll get something worked out in time."
Please enable JavaScript to view this content.