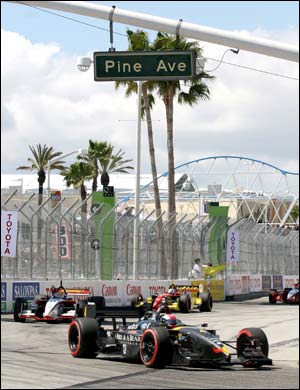 Indy Racing League officials today confirmed they have finalized a contract to hold a race in a new, important market next year.
The IRL signed a five-year deal with The Grand Prix Association of Long Beach, that will put an IRL race in the same California location Champ Car raced this year. The deal runs through 2013.
"In 2009, the Toyota Grand Prix of Long Beach will celebrate our 35th year with a new era," Jim Michaelian, GPALB president and CEO, said in a prepared statement.  "Needless to say, we're extremely happy that the [IRL] will continue our tradition of being America's greatest street race."
"And, we're delighted that many great drivers will be returning to our streets, like Helio Castroneves, who won our race in 2001, and Tony Kanaan and Scott Dixon, both of whom competed here often."
IRL officials said the deal is an off-shoot of their series' reunification with Champ Car earlier this year.
"Long Beach is an historic, world-class venue, and our entire organization is excited to have the race as an integral part of our schedule," said Terry Angstadt, president of the IRL's commercial division.
The contract follows the recently announced extension of an agreement between the GPALB and Long Beach to conduct an annual open-wheel race through the downtown city streets through 2015, with an additional five-year option. 
The Long Beach Grand Prix is the longest running major street race in North America. Attendance for the weekend is estimated at 200,000, with more than 100,000 turning out for race day.
Please enable JavaScript to view this content.