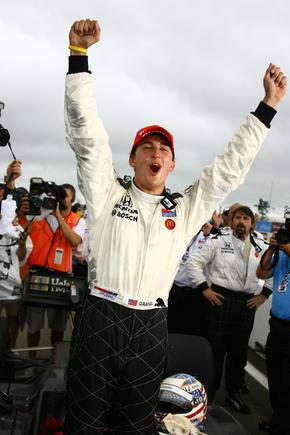 For all the touting of higher television ratings, attendance and series Web site visits, there's one glaring shortcoming that shows the Indy Racing League still has challenges.
Fourteen of the 33 cars that qualified for the Indianapolis 500 either have no or little sponsorship money coming in. And if not for a few last minute deals such as Eli Lilly & Co. Inc. sponsoring A.J. Foyt IV and the city of Las Vegas swooping in to sponsor John Andretti for one race,  it would be even worse.
The first four rows look rock solid, with the likes of Target, 7-11, Motorola, Panasonic and WilliamRast plastered all over the cars. Those are legitimate paying customers.
But two-thirds of the drivers in the back seven rows are either driving cars with empty sidepods or emblazoned by sponsors that are ponying up little or no money–or have promised money, but have a history of non-payment.
"Empty sidepods, plain and simple, show there's a problem," said Dennis McAlpine, a New York-based motorsports analyst. "It shows there's excess supply and not enough demand."
And if the IRL can't attract team sponsors to its cornerstone race, McAlpine said, that shows a potentially deeper problem. "Come on, this is the greatest spectacle in racing," he said.
It's not just little-known, no-talent drivers that don't have sponsors. The likes of Graham Rahal, who won IRL's St. Petersburg, Fla., race this year, former Indy 500 winner Buddy Rice and fan favorite Sarah Fisher are all without primary sponsorship.
Zak Brown, president of Just Marketing International, is optimistic things will be different within two years. His firm has been hired to hunt title sponsors for the league.
"You have to be patient," said Brown, whose firm represents some of the biggest sponsors in NASCAR and Formula One. "A lot of the Champ Car teams came over with no sponsorships, and these deals don't get put together overnight."
Brown expects about 25 cars to have solid sponsorships next year, and even more in 2010. Brown said several of his clients, including Hilton Hotels, have shown interest in the IRL since its unification with Champ Car and will be attending the Indianapolis 500 Sunday to sample the product.
Please enable JavaScript to view this content.