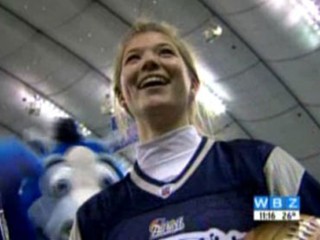 New Hampshire teen-ager Anna Grant, treated like a villain in the RCA Dome four months ago, is being treated like a queen today at the Indianapolis Motor Speedway.
Grant, 14, made news when she was awarded first place in her age division in the Punt, Pass and Kick competition sponsored by the National Football League. When she was introduced to the crowd—wearing a New England Patriots jersey—with dozen of other kids during the first round of the playoffs at the RCA Dome, she was loudly booed by the capacity crowd and mocked by the Colts' mascot.
Colts' officials quickly distanced themselves from the booing, and local fans said they were booing the jersey, not Grant. The 14-year-old took the harassment in stride, saying she understood the Colts and Patriots are rivals, and that sparked the booing. Still, the event got national press coverage.
This week, IMS boss Tony George and WTHR-TV Channel 13 moved to make amends with Grant and her family, bringing them in for a free weekend at the famed Brickyard to watch the 92nd Indianapolis 500. Grant, ever gracious, said she was grateful. She and her family attended the parade Saturday along with other pre-race activities, then were treated to the race on Sunday along with some special hospitality events, all paid for by the Speedway and WTHR.
"We wanted to show this really is a hospitable community," said WTHR spokesman Jeff Dutton. "We wanted to show her what Hoosier hospitality is all about."
Please enable JavaScript to view this content.