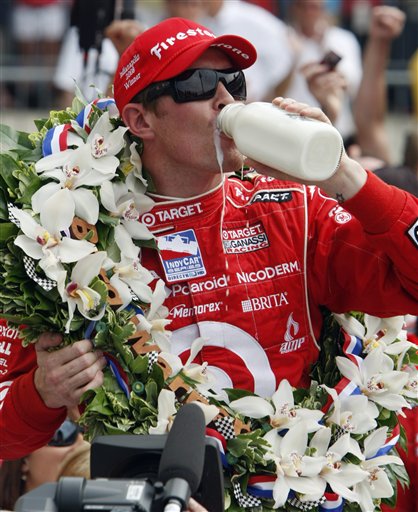 College football has the Heisman Trophy, hockey has the Stanley Cup and The Master's has the green jacket. But none are as cool as the bottle of milk awarded to the winner of the Indianapolis 500, according to Sports Illustrated.
SI recently ranked the top 10 Sport's World's Coolest Prizes. Two local icons made the list, but the drink of milk, which traces its roots to 1933, sits at the top.
1.      Milk for the Indy 500 winner

2.      Stanley Cup

3.      Heisman Trophy

4.      The Master's green jacket

5.      Old Oaken Bucket

6.      Venus Rosewater dish at Wimbledon

7.      Kentucky Derby's blanket of roses

8.      Gibson guitar at Nashville Speedway

9.      Floyd of Rosedale pig sculpture (Minnesota-Iowa football game)

10.     Olympic gold medal
Louis Meyer, Indy's first three-time winner, started the Speedway tradition when he pulled into victory lane in 1933 and asked for a glass of his favorite beverage, buttermilk. Milk was offered to Indy 500 champions off and on until it became a permanent part of the tradition in 1956.
The American Dairy Association later sponsored the award, which spurred controversy in 1993. That year, Brazilian Emerson Fittipaldi won the race, but refused the milk in favor of orange juice. Motorsports historians said Fittipaldi was encouraged to drink orange juice made in his country instead of the American-made milk. He later said he regretted not drinking the milk, and promised to do so if he won the next year. Fittipaldi crashed out while leading in 1994–his last Indy–with just 16 laps to race.
No driver has refused the cherished bottle of milk since.
Please enable JavaScript to view this content.