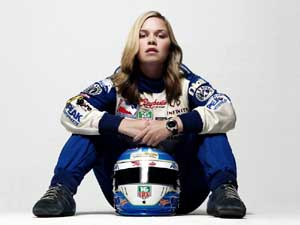 People are still fascinated with open-wheel racer Sarah Fisher despite the problems she's had during the month of May in Indianapolis.
Actually, sports marketers think people might be fascinated with her because of the problems. Apparently race fans love a hard luck story. Fisher was No. 2 on Yahoo.com's top searches nationally today, behind only Denise Richards. Fisher's name was searched for more—much more—than any other Indianapolis 500 driver in the days following the race. That includes fan favorite Danica Patrick and race winner Scott Dixon.
"She has people's attention," said Zak Brown, president of locally based motorsports marketing firm Just Marketing International. "She needs to capitalize."
Earlier this month, Fisher lost her primary sponsor and another major sponsor. She still managed to qualify for Sunday's Indianapolis 500. It only got worse on race day. She stalled the car twice, spun her ride while warming up the tires and then was taken out on lap 106 by Andretti Green Racing's Tony Kanaan. Fisher did about $150,000 to $250,000 worth of damage to her car. Race fans on message boards and chat rooms nationwide are calling for Andretti Green to pay for Fisher's repairs. Kanaan blamed the accident on his AGR teammate Marco Andretti.
Fisher had hoped to race at least twice more this Indy Racing League season, but now her self-funded team is in serious trouble. Already fans have pooled together $30,000 for the good of the cause.
Fisher wants to return to the track this year for her fans. "They're like an associate sponsor," she said. "Their support of me and my team is amazing."
Please enable JavaScript to view this content.