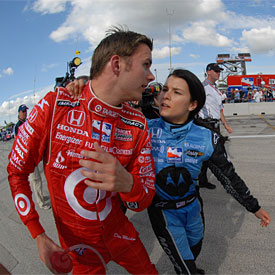 The Indy Racing League is continuing its popularity growth.
After a strong month of May in Indianapolis, the IRL saw a 30 percent attendance increase at its race yesterday in Milwaukee, to just more than 30,000.
While the Milwaukee Mile was not quite full—it seats 40,000—numerous race day observers said there was a marked increase in crowd size and excitement from last year.
The grandstands and bleachers were mostly full for the 2008 ABC Supply/A.J. Foyt 225, but there were some vacancies in the premium seating areas, showing that demand might not yet match the availability for the higher-priced seats.
Track officials reported brisk walk-up ticket sales, despite a Milwaukee Brewers game which sold out just a few miles away.
Some IRL insiders still believe Milwaukee and its track are too small to support an open-wheel race. There is difficulty accommodating all the cars on the track and pit road, and if the growth of the series continues, attendance at Milwaukee could soon hit its ceiling.
But others think the track's historic place on the open-wheel calendar right after the Indianapolis 500, and the market's growing support for the series should keep the race coming back for the foreseeable future. The Milwaukee Mile is a fan favorite because it is one of the few IRL tracks that you can see almost entirely from the grandstands.
Milwaukee Mile chairman Craig Stoehr says he feels "very good" about the IRL race's future at his track.
Please enable JavaScript to view this content.