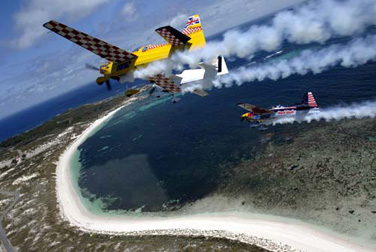 The Detroit Free-Press reported that fans watching last weekend's Red Bull Air Race World Series along the Detroit River got a "thrill-chill."
The crowd size assembled along the river banks might have thrilled Indianapolis Motor Speedway event promoters, who said last year they were considering bringing the unique air race to the Speedway as part of the track's centennial celebration.
Red Bull Air Race officials reported that 170,000 paid to attend the two-day event, while the Free-Press reported another 500,000 or so crammed every square inch of the river bank on the Detroit and Canada sides to watch the sky-bound race unpaid. Crowd estimates came from the Detroit Police Department, Windsor Police Department and General Motors Security officials, said Red Bull Communications Manager Maddy Stephens.
"It was amazing," Stephens said. "It shows there is a Midwest audience."
The inaugural Detroit race followed the first U.S. stop of the 2008 series in San Diego on May 3 and 4, where it returned for a second year with 120,000 spectators. The Red Bull Air Race World Series has been extremely popular for several years in places like Rio de Janeiro and other markets worldwide. It is just taking off in the U.S.
The 5-year-old airplane racing circuit is hyped for combining the intrigue of a high-wire circus act, thrills of an alpine ski race, and cutting-edge technology of Formula One auto racing.  
IMS officials in February tabled the idea of hosting an air race so it could focus on the debut of the MotoGP motorcycle race this fall, the possible return of a Formula One race, and special projects surrounding its 2009 centennial. The Speedway's centennial celebrations will extend through 2011.
Red Bull still has interest in the Indianapolis market, Stephens said, and IMS officials haven't totally ruled it out. The crowds in Detroit certainly didn't dampen local interest.
Please enable JavaScript to view this content.