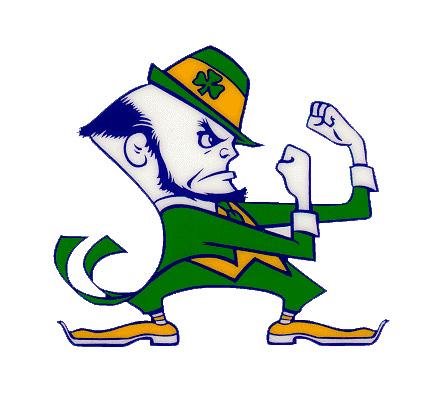 Notre Dame is renewing its television contract with NBC.
The university and NBC announced today they have agreed on a five-year deal that runs through the 2015 season. The current contract—which paid Notre Dame $9 million annually—was scheduled to expire in 2010. Sources close to the network said the new deal pays Notre Dame about $10 million per year.
This contract includes seven homes games per season. It allows for the first time an eighth off-site home game played at a neutral stadium.
The extension comes in the midst of an on-field Notre Dame slump. NBC had to downgrade its advertising pricing strategy while the Irish posted a 3-9 season last year. Last fall the ratings on Irish games fell 40 percent from the previous year and are now half of their 2005 levels.
NBC has had to give free ads (known as make-goods) to companies like Allstate and Procter & Gamble to justify the $55,000 to $80,000 rates for 30-second spots network officials negotiated before the season started. Media buyers will likely demand better pricing for the 2008-09 season.
NBC has broadcast Irish football since 1991. The TV money from NBC is one of the primary reasons Notre Dame football has been able to continue profitability while not being in a conference.
"The announcement of our association with Notre Dame back in 1990 was one of the great moments in the history of NBC Sports, so we're obviously thrilled to be continuing this landmark partnership with Notre Dame," said Dick Ebersol, NBC Sports chairman. "Notre Dame is unquestionably one of the premier brands that defines who we at NBC are — things like the Olympics, the NFL, the U.S. Open and Notre Dame. "
Ebersol isn't discouraged by Notre Dame's losing record last year.
"The Notre Dame brand is a brand that has been sustained for decade after decade after decade," Ebersol said. "When you look at the great brands you don't necessarily look at year to year. Notre Dame has had a new coaching team settling in. We're big believers in how Notre Dame time and time again, over all these generations, has maintained its strength. I don't see that going away."
The revenue generated through the NBC relationship is a primary reason why Forbes magazine has recognized the substantial financial contributions made by Irish athletics to the university's academic enterprise. In a 2007 survey, Forbes reported that the Notre Dame football program returns $21.1 million to academic initiatives, a total that is more than the survey's next five programs combined.
NBC's schedule of Notre Dame home games in 2008 features dates against San Diego State (Sept. 6), Michigan (Sept. 13), Purdue (Sept. 27), Stanford (Oct. 4), Pittsburgh (Nov. 1) and Syracuse (Nov. 22).
Please enable JavaScript to view this content.