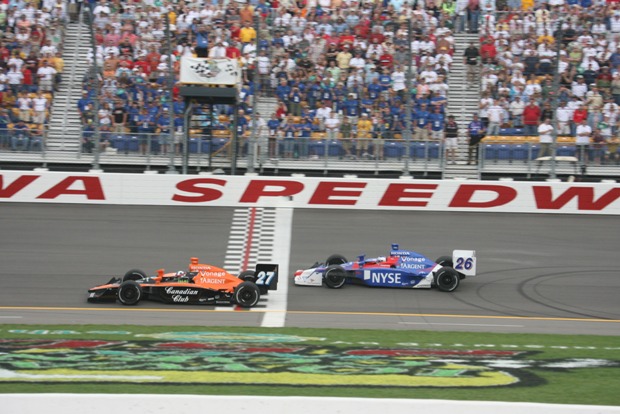 Despite flooding which has ravaged the area, officials at the Iowa Speedway—30 miles east of Des Moines—expect the Indy Racing League race there to be sold out Sunday.
"Track officials are expecting another strong showing," said IRL spokesman John Griffin as he surveyed the area around the track this morning. "There are about 35,000 permanent seats at the track that are already sold out and track officials as we speak are contemplating adding temporary seats."
Temporary seats and standing-room only admission could bring attendance to more than 45,000, Iowa Speedway officials said. This is the second year the IRL has raced in Iowa, and Griffin said it is proving to be a burgeoning market.
"The reception we have gotten here has been absolutely fantastic," Griffin said. "We think this is going to continue to be a very strong market for us."
Last year, about 17,000 attended qualifications for the Iowa race, and Griffin expects at least that many this year. Qualifications will be held tomorrow afternoon and the race, which will be televised on ABC, will go green at 1 p.m. Sunday.
IRL drivers hit the ground in Iowa early, several of them canvassing the state to help with the flood relief effort. Several major cities and highways have been underwater for more than a week. Ed Carpenter, A.J. Foyt IV and Bruno Junqueira worked with Red Cross employees and volunteers handing out supplies to area residents hit by this month's record rains. The IRL raised more than $60,000 for Iowa flood victims.
Interstate 80, a main artery to and from the Iowa Speedway, opened late Monday afternoon, and the track was deemed fit for racing.
"The immediate area around the track is dry as dry can be," Griffin said. "People up here seem very excited that we're here. I think they're ready to come out to the track and get their minds off of the challenges they've been dealing with."
Please enable JavaScript to view this content.