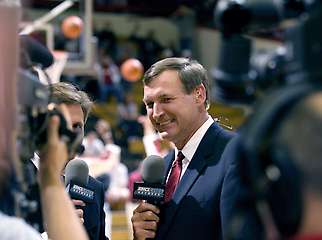 Now that Rick Greenspan has announced his resignation, it's time to start speculating on who the next Indiana University athletic director will be. As a news reporter, I try hard not to interject my opinion. But to start this conversation, I'd like to throw out what I think is one obvious candidate. John Laskowski.
I know a lot of people have called for an IU guy to be installed as basketball and/or football coach or any number of other positions, and I've never subscribed to that school of thought. We all saw how well that worked out with football coach Cam Cameron. But if there's a position within the school's athletic department that calls for an IU guy, it's that of athletic director. Here's why.
A very smart man who was once a three-term mayor of a mid-sized south central Indiana city once told me that the main job of the mayor is to get the garbage picked up weekly and the streets cleared of snow in the winter. Essentially, he said, it's a public relations job. You put good lieutenants in the right positions to handle much of the day-to-day work, he concluded.
The same could be said about the athletic director. Lately at IU, the trash hasn't been picked up, and it's starting to stink–even all the way up here in Indianapolis. The AD position is about opening lines of communication, building consensus and raising funds. Greenspan was obviously not the right candidate for any of that. His idea of open communications was waiting for the media to file public access requests, which seems to be happening in Bloomington on a regular basis these days.
I know there are those who will argue that he is not qualified to manage an athletic department with a nearly $50 million  budget, but I think Laskowski is almost tailor-made for the AD job. As a guard on the 1975 Bob Knight-led IU basketball team, he has the connections to mend the fences torn down under Greenspan and his predecessor, Mike McNeely. I think he would instill some sorely needed discipline into the program. He has shown solid judgment during his time at IU and since his graduation. He has a Hoosier sensibility that has been sorely missing in Bloomington for eight years. Lastly, I think he respects Knight, but I don't think he's a crony, and he'd probably do the job for a lot less than McNeely or Greenspan commanded.
Most importantly, Laskowski may be one of the few guys who actually wants the job. He did in 2000, when McNeely was hired away from the San Diego Chargers. Here's why Laskowski said he was qualified for the job in 2000.
"No. 1, I'm a fan of Indiana. No. 2, I'm a graduate. And No. 3, I'm a guy who's been around here 30 years," Laskowski said. "If I were selected, it would be a transition that I'm already used to doing, working here at the university."
I'm sure Laskowski's logic seemed a little too simple for IU trustees who have a habit out of turning four-function mathematics into quantum physics. In addition to playing hoops for IU, Laskowski, 55, also spent more than 25 years doing broadcast work for IU basketball telecasts. Laskowski also served as vice president of marketing and membership for IU's Alumni Association. He's even been known to be a regular at local weekly Kiwanis meetings. In 2005, Laskowski took a job with Marsh Inc., a division of Chicago-based Seabury & Smith, a company that sells insurance and financial services to alumni associations. But he still maintains a local presence.
If you think Laskowski merely has men's basketball on his mind, think again. Eight years ago, he said some of his top goals included increasing attendance at football games and improving promotion of secondary sports–especially women's sports at IU.
I know nationwide–even worldwide–searches for job candidates are all the rage these days. Those types of searches have netted IU the likes of Adam Herbert, McNeely and Greenspan. I just hope an obvious candidate in IU's own backyard doesn't get overlooked-again. I've told you what I think. Please, tell me what you think.
Please enable JavaScript to view this content.