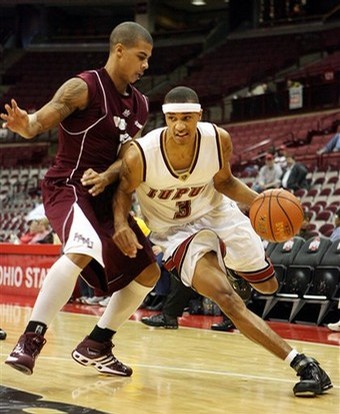 Despite George Hill's departure for the National Basketball Association, IUPUI men's basketball coach Ron Hunter said the program is far from dead.
When Hill left—despite having one year of eligibility remaining—many hoops experts predicted that would stunt the growth of the IUPUI program.
The prospect of seeing an NBA first-round draft pick certainly would have packed in the fans to the Jaguars' home venue on the west side of downtown. But Hunter said momentum is building not in spite of Hill's departure—but in some ways because of it.
Hunter said Hill's success at IUPUI has been a strong recruiting tool with area high school players and a strong motivational device with current players.
"George Hill came in a skinny kid with some talent, and he left a millionaire," Hunter said. "We tell our kids it is about hard work, having some luck and doing things the right way."
Though it will be difficult improving off last year's 26-7 season, Hunter isn't discounting the possibility. Two incoming freshmen could be the key. Hunter is touting Larry Stone from Howe and Alex Young from Northwest as his new young guns.
"Alex Young should really not be at IUPUI," Hunter said. "He should be at a much bigger school. He can flat out play."
Sports marketers think the promise of watching another possible NBA star in the cozy confines of IUPUI's home arena could draw fans in record numbers this year.
Please enable JavaScript to view this content.