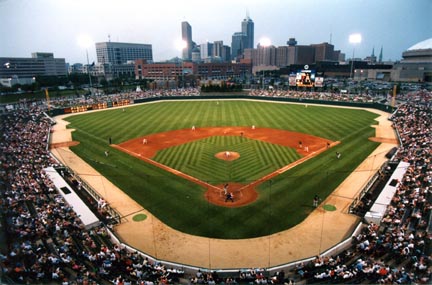 The Indianapolis Indians' July 4 home game against the Louisville Bats—the Cincinnati Reds farm team—is  sold out. A limited number of standing-room-only tickets will be made available at game time.
Victory Field has a capacity of 14,500 including outfield lawn seating. This marks the team's first sell-out of the season, but continues an attendance upswing which began when the team drew 13,509, 12,189 and 11,051 on consecutive nights June 20-22.
The team appears to be headed for an attendance increase over last year, when it averaged 8,383 per game. The team is averaging near 8,000 per game now, with July and August traditionally comprising the team's strongest attendance period.
Fans without tickets for the July 4 game can watch it live on WHMB-TV Channel 40, with Howard Kellman and former Major League pitcher Dyar Miller calling the action. The contest will also be broadcast on WXLW-950 AM with Scott McCauley and Brian Giffin as announcers.
Please enable JavaScript to view this content.