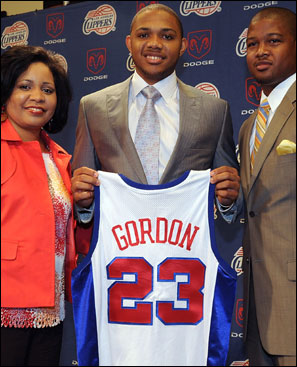 Indiana guard Eric Gordon took his show—which could easily be titled Midwest Manners and Sensibility—on the road to L.A. yesterday.
And while Gordon came across a bit timid, most of the crowd loved him.
Gordon yesterday made his first public appearance in the City of Angeles since being drafted by the L.A. Clippers No. 7 overall in the National Basketball Association draft last week.
Gordon had just signed a three-year contract worth a guaranteed $8.4 million, with an option for a fourth year. But the L.A. media were just as curious to see if what they heard about the home-spun Gordon was real. Some thought it might be too good to be true—a humble athlete who has a tremendous on-court upside.
Any doubt that Gordon was the genuine article was dispelled when him mom began telling reporters about their favorite place in Bloomington to eat—Applebee's, and how the whole family would go there after IU games.
It remains to be seen how good Gordon will be on the court in the NBA, but his demeanor is so far a big hit in the glitzy city. Gordon, noted a reporter at the press conference, didn't arrive via a private jet nor was he accompanied by an entourage. And he addressed Clippers executives and coaches as "sir."
His Midwest manners might actually be a big hit with advertisers and the team's corporate backers, noted one L.A. sports marketer, which could easily double Gordon's salary in endorsements.
Gordon strolled in to the Staples Center yesterday only accompanied by a single agent, his mom, Denise, and cousin and longtime mentor Richard Bishop.
Gordon plans to live with Bishop and probably settle in Marina del Rey. Bishop was Gordon's sixth grade teacher and assistant basketball coach at North Central High School.
"He's a great young man for the city of L.A.," Bishop told reporters at the press conference. "He's the type of man you want your young boys to grow up and be like. He's very respectful, and he's great in the community. He almost breaks the mold of professionals who are all about me, me, me. He wants to be a good person."
Gordon addressed the gathering wearing a sleek gray suit with a lavender-colored tie, a noted departure from the flashy suit he wore on draft night. In his comments, Gordon was all business.
"Hopefully, I'm somewhat of a missing piece in getting the chemistry of the team back together for everyone," Gordon told reporters.
Elgin Baylor, the Clippers' vice president of basketball operations, said he expects Gordon to contribute in his first season.
Please enable JavaScript to view this content.