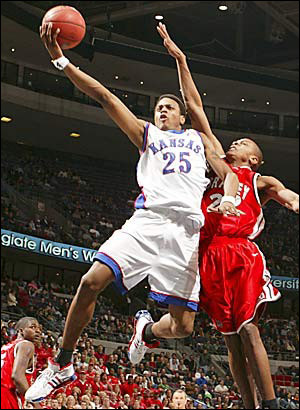 Attention all real estate agents. The city's soon-to-be newest millionaire is looking for a house.
Brandon Rush said he expects to sign a contract to play for the Indiana Pacers tomorrow and will be in Indianapolis this weekend looking for a house. He said he was scouting around central Indiana last week, but couldn't find anything he likes.
And Rush will likely be looking for a nice big, comfy home. His contract will be a three-year deal in the neighborhood of $6 million. He also plans to establish roots here.
Rush recently said he'd like to be compared to Reggie Miller, not only for his three-point shooting prowess, but as someone who is a Pacers lifer and a team pillar.
During a recent interview, Rush was saying all the right things—talking about improving his defense, getting the ball to the open man and supporting the team's established stars—especially Danny Granger.
"I'm ready to get going with the team hopefully Wednesday," Rush said. "I'm ready to take it to the next level."
Please enable JavaScript to view this content.