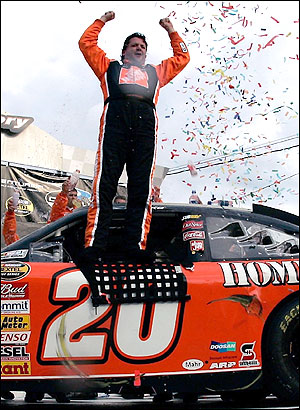 Two-time NASCAR champion Tony Stewart has been granted a release from the final year of his driving contract with Joe Gibbs Racing after 10 seasons with the team. On Thursday at Chicagoland Speedway, Stewart is expected to formally announce his move to Haas/CNC Racing as co-owner and driver.
The move will reunite Stewart with his much beloved former sponsor and car maker, Chevrolet. But even more than Chevrolet, Stewart loves handling the business side of racing.
Stewart began managing his own racing operation when he was a teen-ager in Columbus. Stewart brokered a sponsorship deal with the local Dairy Queen which funded his go-kart racing team. He still maintains a relationship with that DQ today.
Stewart continued his interest in team ownership by establishing a racing operation in Brownsburg several years ago. He opened one of the area's most cutting-edge race shops there in late 2006. Today, Stewart employs dozens of workers and fields teams in several circuits out of the 25,200-square foot facility.
The Tony Stewart Racing empire includes ownership of three racetracks, a satellite radio show, a public relations firm and a barbecue sauce line.
Do you think this background assures Stewart Haas Racing will be a success?
Please enable JavaScript to view this content.