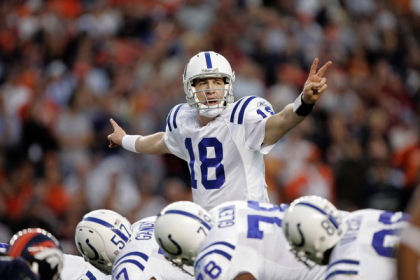 Despite the hype surrounding Indianapolis Colts quarterback Peyton Manning, it's still easy to underestimate—or simply forget about—the impact this one player has on the team. That impact goes beyond winning on the field.
The team's sales and marketing staff has as much to lose as anyone when Manning walks away from the game. Don't worry Colts fans, Manning's injured knee should be healed within six weeks.
But mentioning Manning's name in the same sentence as "knee injury" is enough to make the team's sponsorship sales executives start sweating. And for good reason.
Take for instance the 14 primary sponsors of the new Lucas Oil Stadium. Those 14 sponsors will bring in $10 million or more annually for the Colts. Five of those 14 sponsors, including the likes of AirTran Airlines and Sprint, have connections to Manning. The five sponsors connected to Manning will net the Colts about $5 million annually.
Who knows how many of the other sponsors that signed big deals with the new stadium either did so to gain an association with Manning or muscle in on the turf of other Manning-exclusive sponsors. For instance, Manning has an exclusive deal with St. Vincent Hospitals. Clarian Health and Advantage Health have stadium deals.
You can bet the Colts sales and marketing staff works Manning's sponsor list regularly not only for direct sales but leads on other potential deals.
Manning's biggest sponsors include: American Family Insurance, Donruss trading cards, ESPN, Gatorade, Kraft, Master Card, Nerf, Sony and Zurich Financial Services.
That's not a bad list from which to work.
Please enable JavaScript to view this content.