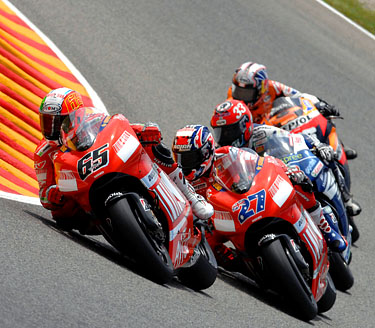 AAA Hoosier Motor Club today finalized a three-year deal with the Indianapolis Motor Speedway, making AAA Hoosier Insurance a primary sponsor of the inaugural Red Bull Indianapolis GP MotoGP event on Sept. 14 at the famed Brickyard. Financial terms of the deal were not disclosed.
AAA signed on as the Official Auto Club, the Official Travel Agency and the Official Auto Insurance Company of the Indianapolis 500 in December 2005. In March 2007, AAA Hoosier Motor Club signed IRL driver Sarah Fisher to a three-year contract that made her the official spokesperson for AAA Hoosier Insurance.
"Involvement with the Red Bull Indianapolis GP provides us with yet another forum to stress the importance of practicing safe driving habits to both AAA members and non-members alike," said Gary Michelson, AAA Hoosier Motor Club senior vice president.
The Red Bull Indianapolis GP will be the 14th of 18 races on the 2008 MotoGP schedule.
Please enable JavaScript to view this content.