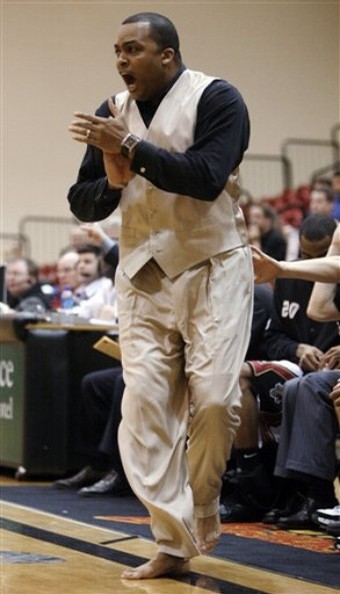 IUPUI men's basketball Coach Ron Hunter is making good on a promise he made in January to personally deliver shoes to the poorest of the poor.
Thursday, Hunter and members of the Jaguars team depart Indianapolis for Lima, Peru, where they will give away some of the 150,000 pairs of shoes Hunter helped attain during a January promotion.
The promotion landed Hunter—who coached a game in his bare feet—on national television, but he said it was not a stunt merely to earn IUPUI publicity. He promised in January to make sure the shoes found their way to needy people.
"I am excited to be a part of this incredible journey," Hunter said.  "To be able to go over and personally deliver the shoes that were raised is a blessing that me and my team are excited about. These children we will bless in Peru are suffering from extreme amounts of poverty and we're going over to give them hope."
Joining Hunter on the trip will be his team, assistant coaches and twenty members from a locally based not-for-profit group, Samaritan's Feet, including the group's founder, Emmanuel "Manny" Ohonme. 
Hunter and his team also will be involved in basketball clinics for children. Hunter said his team will wash the feet of the children receiving the shoes, and "place brand new tennis shoes on each child's feet."
The group will return to Indianapolis late Monday night.
Please enable JavaScript to view this content.