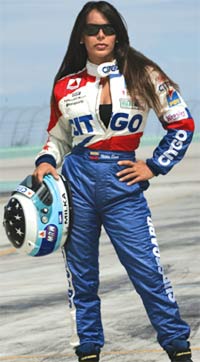 If you haven't seen the video of Saturday's altercation between Indy Racing League drivers Danica Patrick and Milka Duno, you can go to YouTube. More than 600,000 people have watched it since the dust-up in Ohio, where Duno threw a towel in Patrick's face, not once, but twice. Patrick responded with a few choice words.
League officials have weighed in with a few stern words of their own. Both drivers have been warned about their conduct in seperate behind-closed-doors meetings.
The IRL's Web site traffic, series officials said, has gone "way up" since the incident, which was featured on Bill O'Reilly's Fox News show, Inside Edition, Good Morning America and myriad other TV and radio shows this week. Danica Patrick yesterday was the No. 1 search term on Yahoo, ahead of the likes of Michelle Wie, Heath Ledger and Miley Cyrus.
The IRL is once again basking in the glow of Danicamania. The fact that this latest incident involved another high-profile woman driver has sent this event into the upper stratosphere of media coverage. But is it all good?
"It's a bit of a double-edge sword," said IRL spokesman John Griffin. "Obviously any publicity and attention we get is good for the league. But I'm not sure this is the kind of activity we want to be known for."
The rub began when Patrick accused Duno of getting in her way during Patrick's qualification run. Yes, oddly, at Mid-Ohio other cars are on the track when drivers are trying to qualify. Those that saw the incident said Patrick was justified in her anger.
IRL officials are fearful the incident will fuel the notion that Patrick gets preferential treatment.
"In a lot of respects, what Danica did was appropriate," Griffin said. "She parked her car, talked to her crew, and had something on her mind and went to talk to another driver about it."
Two camps have evolved regarding Duno's screaming and towel throwing response. One side said Patrick has no business approaching other drivers—as she's done two other times—in their pit boxes. While the other camp said Duno was completely over the top.
With the often fiery Paul Tracy ready to take the track for the league's race this weekend in Edmonton, who knows what's next?
"This will be our sixth consecutive weekend of racing," Griffin said. "And I think a lot of people are getting tired and testy."
Please enable JavaScript to view this content.