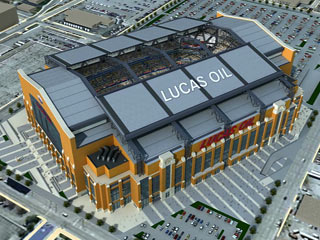 Fear not. If you didn't get your free ticket to tour the Indianapolis Colts' new home venue, there's still a way to get a sneak peak—at a steep price. And this event is way more extravagant than the one that kept fans waiting hours in line for tickets.
The official grand opening celebration Aug. 14 will be attended by key customers and sponsors of the Indiana Convention Center and Lucas Oil Stadium. The Indianapolis Symphony Orchestra and Stephen Stills are scheduled to perform.
Former NFL quarterback and University of Notre Dame standout Joe Theismann will serve as Master of Ceremonies.
The event will begin at 6 p.m. and include a tour of club and suite areas, plus buffets offering American, Asian, Italian and Caribbean cuisine and live entertainment. A parade is part of the festivities.
There's no huge hurry to get tickets. Reservations are being taken until Aug. 6. And the ticket price of $250 per person should keep the crowd to a reasonable size.
Weather permitting, attendees will be the first large group to see the  retractable roof opened.
Cocktail attire is suggested. I'm pretty sure this is not business casual. No overalls, please.
If you weren't on Indianapolis Downtown Inc.'s direct e-mail list for information on this event, don't worry. You can go to www.loscelebration.com.
So who's in?
Please enable JavaScript to view this content.